Home CCTV
No matter the size or location of your home, Home CCTV can provide all home-owners with protection and peace of mind.
Make worrying about burglary or vandalism a thing of the past by asking us to install a full home security system for you and your family. We can arrange your CCTV system to record onto a separate recorder which means that at any time, you can check the system to see what is going on around your property. Night time viewing is never a problem because our systems have Infra-red Night Vision built in. Those hidden areas may look black to you but our CCTV cameras for the home will view them clearly and easily.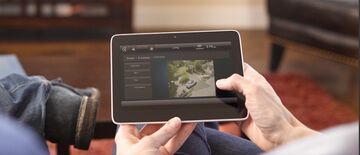 If you want your system connected to your iPhone or iPad, this can also be arranged. Choosing the right CCTV home security system for your home may seem like a difficult decision, but not when we get involved. We can guide you through the best options for you, from the basic less expensive systems to the bespoke installation which can provide you with photographic evidence of events. The court system requires certain criteria to be met if you are going to present them with film identifying subjects. If this is what you need, we have the perfect system for you.

Whether your home is big or small, our Home CCTV systems can enable you to:
Ensure you home is safe
Record all activity
View your property whilst away
Deter possible intruders
Offer protection to family members
Have total peace of mind
Home CCTV systems come in wired and wireless versions. If you are not sure which option to go for, we can talk through the advantages of each system. It should not be forgotten that even the wireless system has to have some cabling in place, added to which the totally wired system can be slightly more reliable. No matter where you are at home , or away, even when you are sleeping at night or taking a leisurely bath, you will be able to see what is going on around your property. There will be no hidden or isolated areas once we have commissioned your system.
No matter where you are located: Birmingham, Coventry, West Midlands or Tamworth, talk to us now to get your home CCTV security system in place.
Domestic